Barry Braverman is a veteran cinematographer with over thirty years experience in television documentaries, music videos, and feature films. Notable credits include 2nd Unit Camera for MOONRISE KINGDOM and THE DARJEELING LIMITED, LETHAL WEAPON 4 (HBO FIRST LOOK), long-form television and educational programs for National Geographic, ABC News 20/20 and CBS News SUNDAY MORNING, and music videos for KELLY CLARKSON, BON JOVI, STEVIE WONDER and TANGERINE DREAM.
Braverman is a member of Hollywood's cinematographer guild and regularly conducts camera workshops worldwide. Since 2006 he has led training in 29 different countries, from Mexico to Bangladesh. As a journalist and author he contributes regularly to leading industry publications like Studio Daily (US) and Red Shark News (UK).  His latest book VIDEO SHOOTER 3rd Edition from Focal Press explores the art of visual storytelling with the latest 2D and 3D cameras.
BOOKPLEASURES MAGAZINE INTERVIEW December 10, 2013
When did you first know that you wanted to be a cinematographer and why were you attracted to the profession?
When I graduated Dartmouth in the mid-70s I had no idea I would become a cinematographer. I was meeting a friend one day at a production company in New York and was seated in the screening room waiting for him to get free.  The company president walked in, looked at me for a moment, and wondered who I was.  I said, "I'm Barry Braverman."  And he replied, "Oh you're the cameraman!"  And that's how I became a cameraman. To be honest I had always been interested in telling visually compelling stories. I was never great with words but I had a good eye.
Who were the first cinematographers that inspired you and what made them so special to you?
The late Andrew Laszlo ASC was my mentor who actually took time off to accompany me on some of my student films.  I learned a lot about camera operation from Andy and also the business aspects like getting into the union!  I also learned a great deal about lighting efficiently from Michael Ballhaus ASC (Broadcast News, Color of Money, Air Force One) whom I was fortunate enough to work with early on. In terms of craft I especially admired the great Néstor Almendros (Sophie's Choice, Kramer vs Kramer, Days of Heaven) who employed minimal supplemental lighting, usually just one light and a mirror.
As you mention in your book VIDEO SHOOTER, great storytelling requires compelling visuals. What are the fundamental ingredients of compelling visuals?
If you've read the book you know!  Like a Renoir painting truly compelling images capture the world in a way our viewers haven't seen before. This is the goal of every cinematographer.  The lessons in my book notwithstanding there are no rules about how to achieve this except well, maybe one – NO MEDIUM SHOTS AT EYE LEVEL!

What was the most difficult assignment you had ever undertaken and why was it so difficult?
Difficult in what way? I was in Cairo in the streets during the recent revolution. It was chaos with the promise of violence (or actual violence) in every direction. But it was more perilous than difficult.  I think the most difficult challenge on any shoot tends to be interpersonal. I pride myself with being able to get along with almost anyone. But I met my match recently on a new reality show. It is difficult to stay focused and perform well when the director is woefully indecisive, and addresses the crew in a demeaning and condescending way.

What would say was your dream assignment and why?
In the mid 80s the legendary new-age group TANGERINE DREAM asked me to shoot their first music video. It was February in New York, grey and freezing cold when the band's leader Peter Baumann gave me a cassette of his yet-to-be-released single. He called me into his office and said, "Here is the music. Here's a check for $25,000. I rented a condo for you in Hawaii.  Go be creative."  It was the best work I've ever done.

Could you tell our readers a little about Video Shooter? What motivated you to write the book? What purpose do you believe your book serves and what matters to you about the book?
Every accomplished artist at some point wishes to synthesize the essence of what he or she knows and does. In my case VIDEO SHOOTER is a distillation of my philosophy and the many techniques that go into my craft. The book has proved helpful in my visual storytelling workshops that I conduct around the world.
If you could go back ten years, what advice would you give yourself?
I would recommend much better lying skills. I am a little too honest and forthcoming with my opinions. In Hollywood lying is good and necessary. I never quite understood that concept.
What is next for Barry Braverman? 
One never knows, which is what is so nice about this business.  New opportunities come and go. For the aspiring cinematographer, learning to love the unpredictability may be the most difficult assignment of all. 🙂
LINKS TO CHECK OUT

MOONRISE KINGDOM WEB PROMO (2012)

NDTV COVERAGE OF INDIA WORKSHOPS 2011
http://www.ndtv.com/video/player/panasonic-dimensions/aspiring-directors-vie-in-3d-film-making-contest/197486
OUTSTANDING STUDENT FILM CAIRO WORKSHOP 2010
http://www.youtube.com/watch?v=Ova-ckO7SFI
AUTHOR, VIDEO SHOOTER 3RD EDITION FOCAL PRESS (2013)
http://www.amazon.com/Video-Shooter-Second-Storytelling-Cameras/dp/0240810880/ref=pd_rhf_p_img_2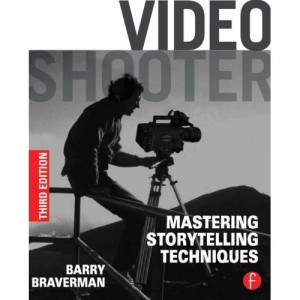 RED SHARK NEWS REVIEW OF SORENSON SQUEEZE PRO 2013
http://www.redsharknews.com/distribution/item/692-sorensen-squeeze-just-made-itself-indispensable
AUSTRALIA WORKSHOP COVERAGE
Australia 3D_Workshop Coverage 2010